2020 HIGH TRAIL NINE PEAKS ULJU
30. 10. 2020 ~ 01. 11. 2020 (Fri - Sun)
Registration 11. 09. 2020 ~ 30. 09. 2020
*1 Peak until 20. 10. 2020, registration at the venue afterward until 31. 01. 2020
Around Yeongnam Alp (Start from Ulju Yeongnam Alps Welcome centre)
Movie screening, lecture, kids program, trekking, morning/night run, camping CP tour, and many more
Race category
(limited tickets - first come first served )
9peaks : 105km +8805m time limit 40h
ITRA 6Point [230,000won]
5peaks : 44km +3490m time limit 12h
ITRA 3Point [110,000won]
2peaks : 26km +2080m time limit 9h
ITRA 2Point [80,000won]
1peaks : 9.4km +1010m time limit 4h
(no cut off) [15,000won]
*only up to 100 people can start at the same time due to COVID-19.
*for 5 peaks and 2 peaks, please check the start time per group before register.
*Maximum capacity: 100 people for 9 peaks and 80 people each for 5 peaks and 2 peaks per the group.
*other events and schedules will be announced ASAP once confirmed.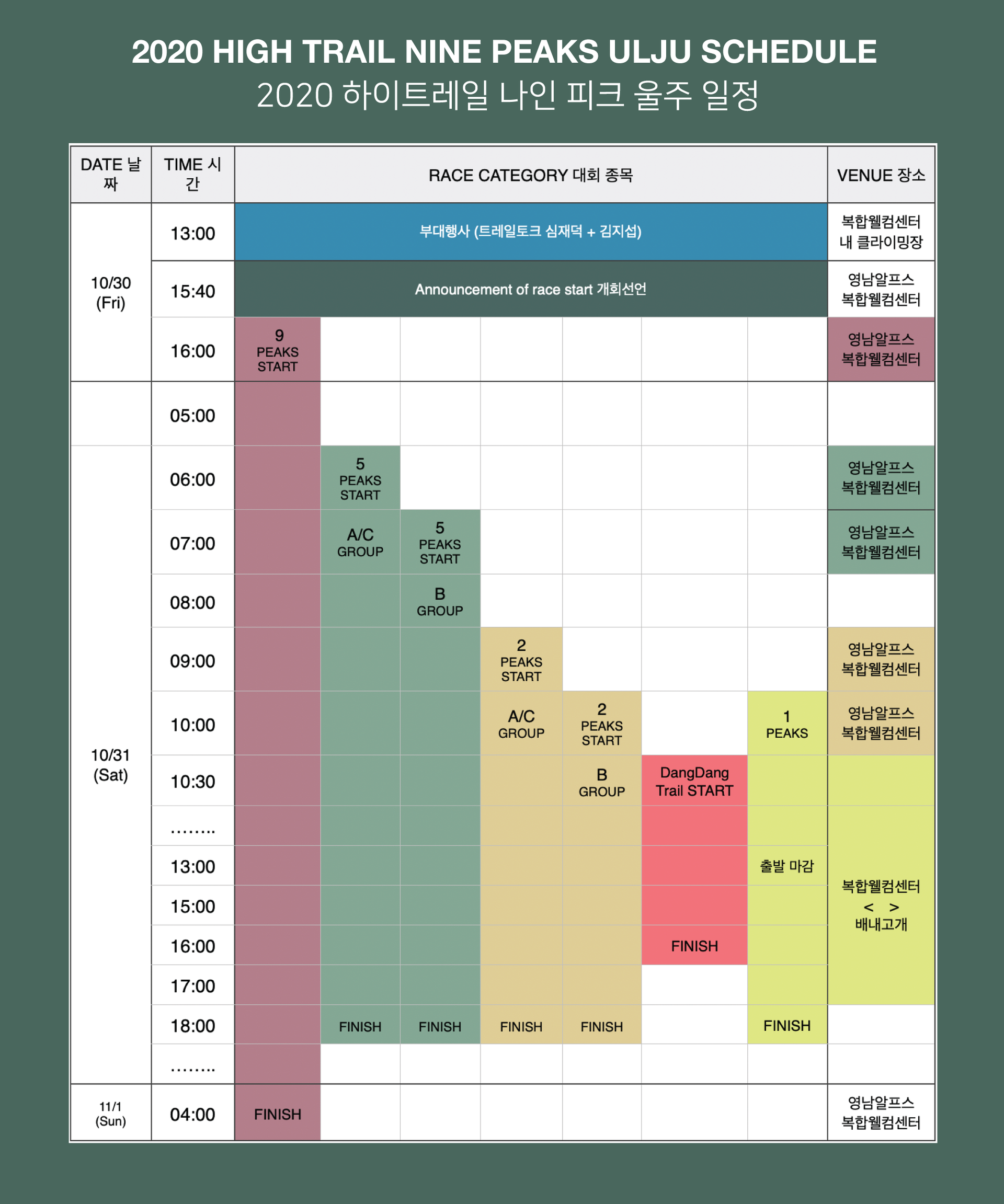 1peak
Anyone that has no health problems.
(a guardian is required for the children under elementary school)
2peaks 5peaks
Anyone above 18 and has no health problems.
9peaks
1. A person who is above 19 and has no health problems with walking or running mountainous terrain of 123km or more in less than 40 hours. (required to submit a medical form filled by a doctor)
2. A person who has experience with finishing 50km (or longer) trail running race or with corresponding physical strength and athletic experience. (required to submit the trail running race completion record, please contact us for other forms of proof)
In order to participate in the race, you must be fully equipped with the mandatory gears during the full race.
Please see the list below to check the mandatory gears per course.
(2peaks 5peaks 9peaks) * not applicable for 1 peak race.
1. Functional clothing(top and bottom)

Professional functional clothes that maintain body temperature by sweat absorption and temperature difference emission.
2. Thermal insulation/windproof jacket
Lightweight padding or fleece or etc. because of the severe temperature difference.
A jacket with athermal insulation and windproof function.
3. Waterproof jacket + waterproof pants
Required in case of rain (necessary if there is a rain forecast during the competition day predicted the day before)
4. Trail running shoes

Wear specialised trail running shoes because of the possibility of rain and accidents.
5. Backpack
Lightweight backpack for trail running.
6. Water bottle or water bag (not less than 1.5L for 9 PEAKS)
For water supply, at least 1L
7. Head lantern + extra battery
More than 200 lumens required.
It will be checked randomly in CPs, immediately disqualified if not equipped (DNF)
8. Survival blanket
Blanket shaped foil
To keep warm in case of emergency, rest, standby, DNF, distress, and etc.
9. First aid kit

Compression bandage (6cm X 2m)
Disinfectant or alcohol cotton, disposable bandage.
10. Personal cup

Disposable (paper) cups will not be provided.
(necessary for cold/hot drinks and soup at the CP)
11. emergency food(excluding 2 peaks)
For calorie replenishment.
(necessary to bring own emergency food as it is a semi-survival race)
12. Red light (9 peaks only)

Such as red blinking light for safety during the night.
13. Lightweight padding jacket (9 peaks only)

To maintain body temperature during the night.
14. Warm gloves (9 peaks only)
To maintain body temperature (any type)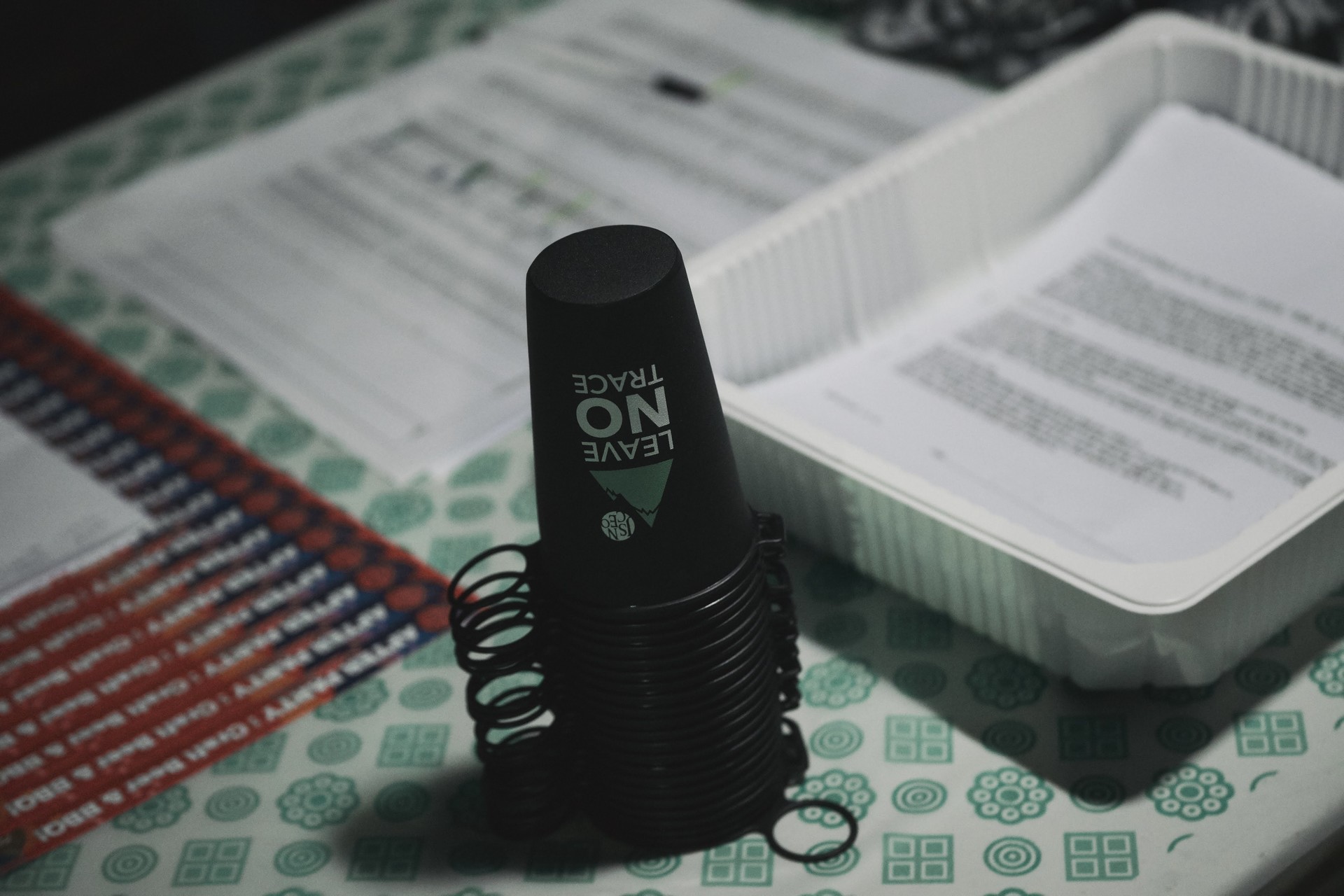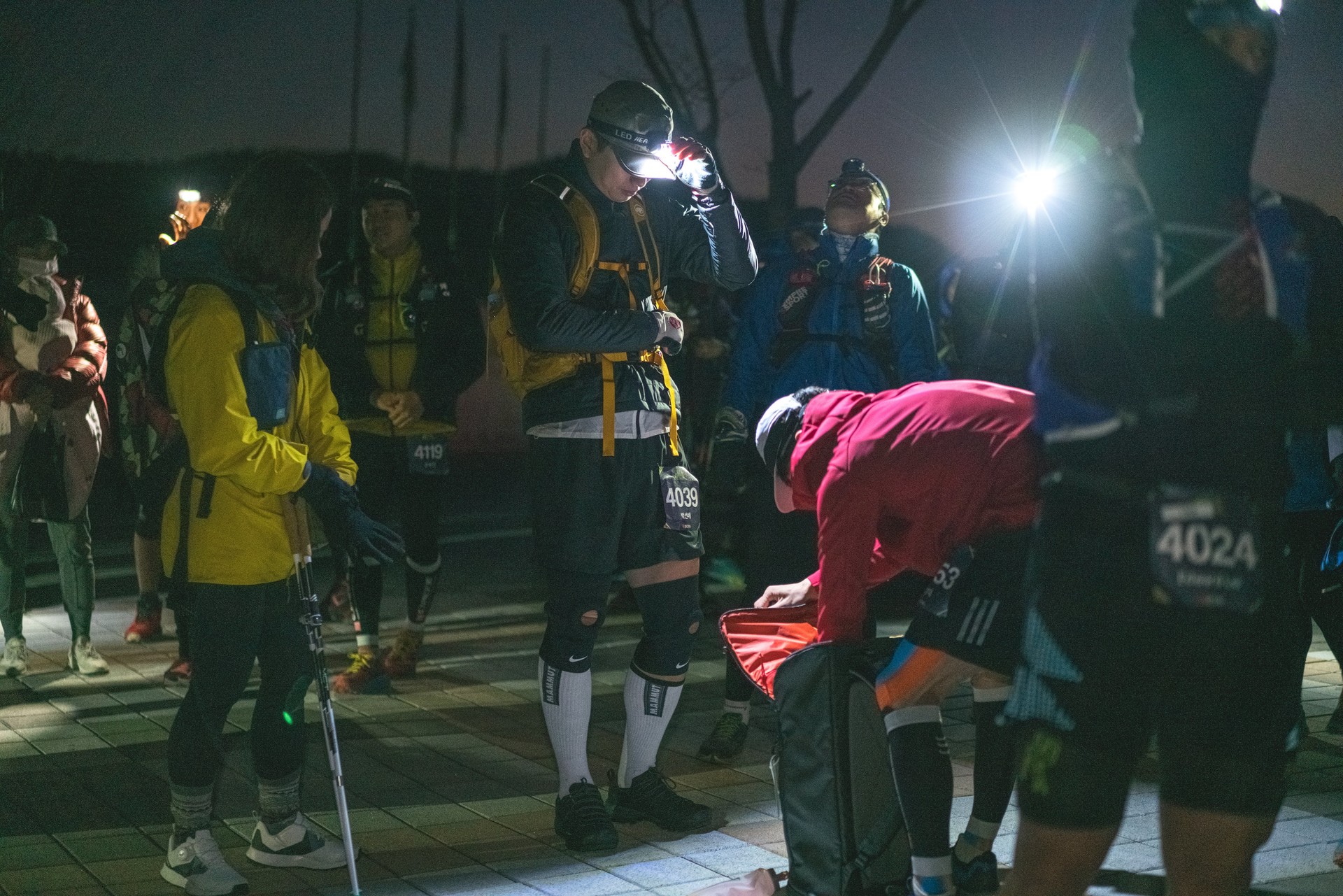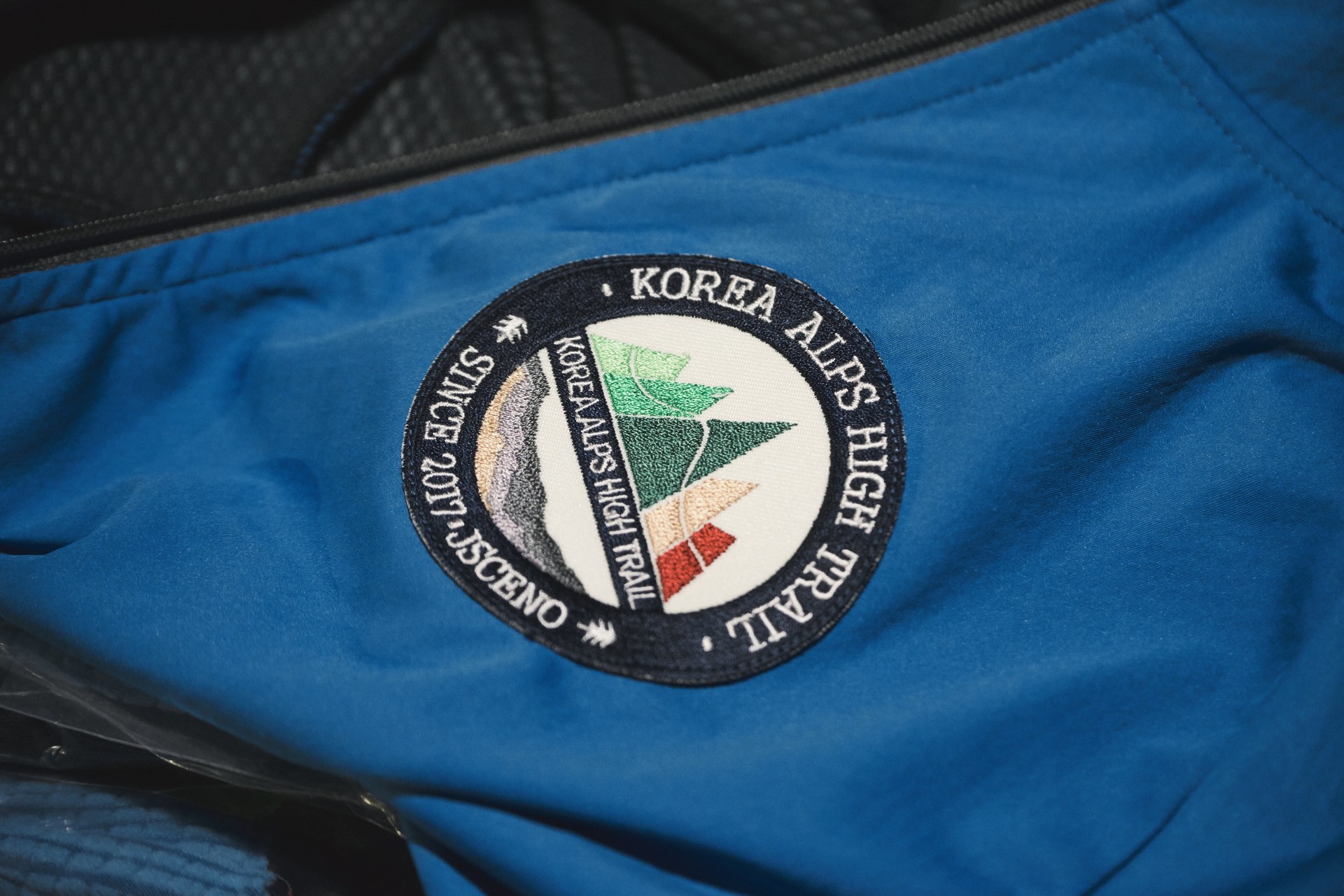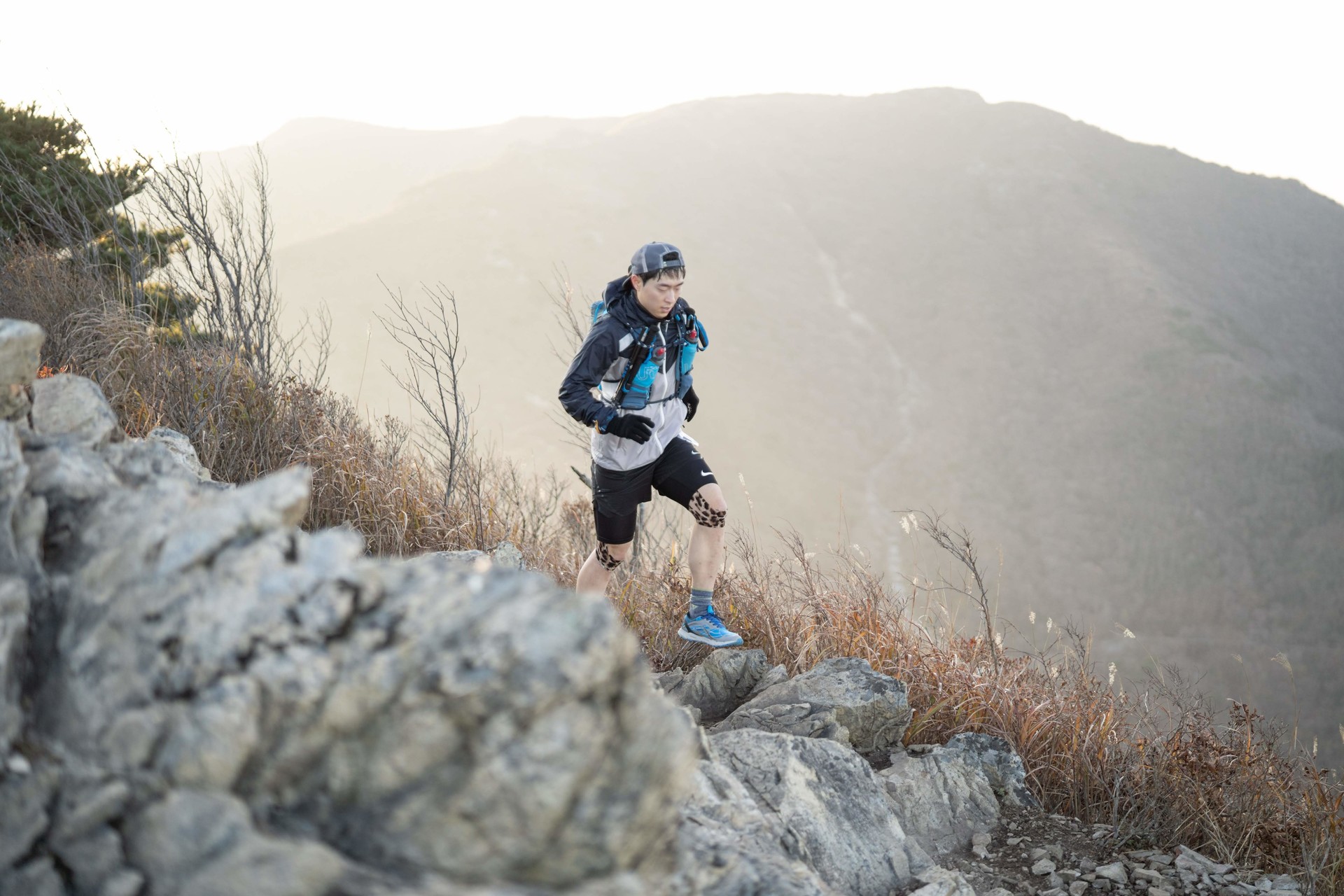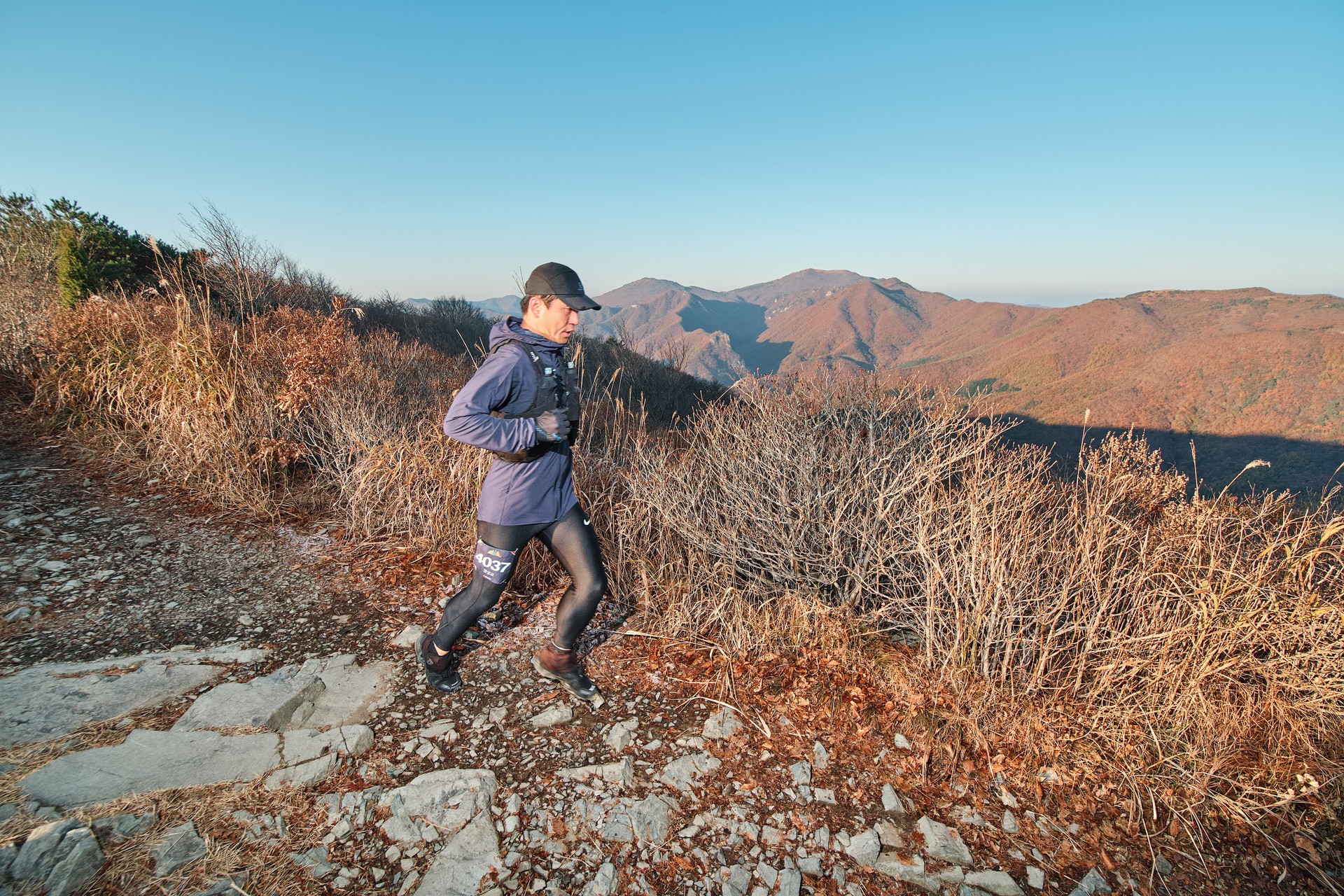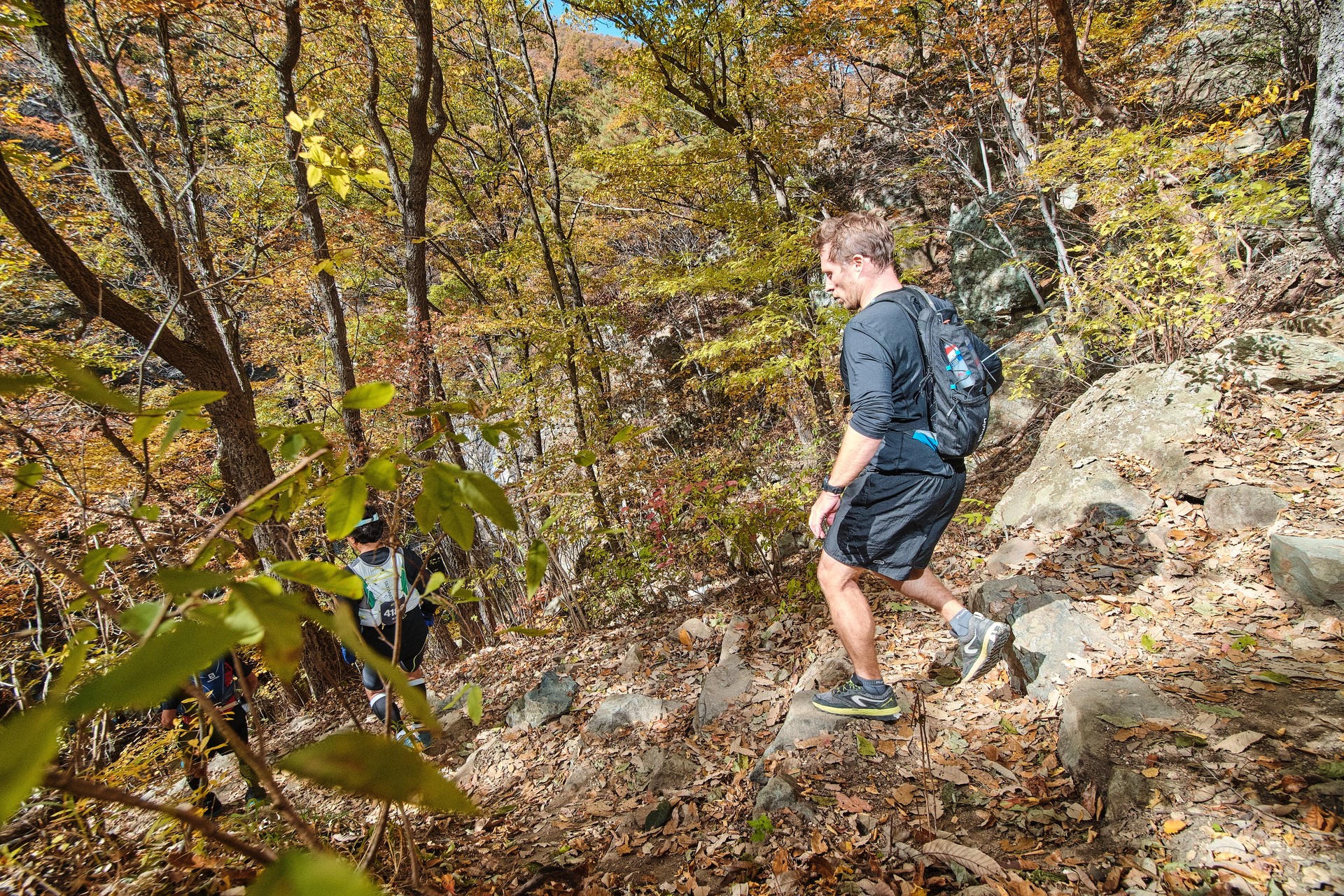 - Participation souvenirs per race
- Finisher souvenir
- Finisher medal
- BIB and record chip
- Mobile records
(details will be announced later)
Trophy and prizes will be awarded to 1st to 3rd men/women per race.
(not applicable to 1 peak as it is not a competition)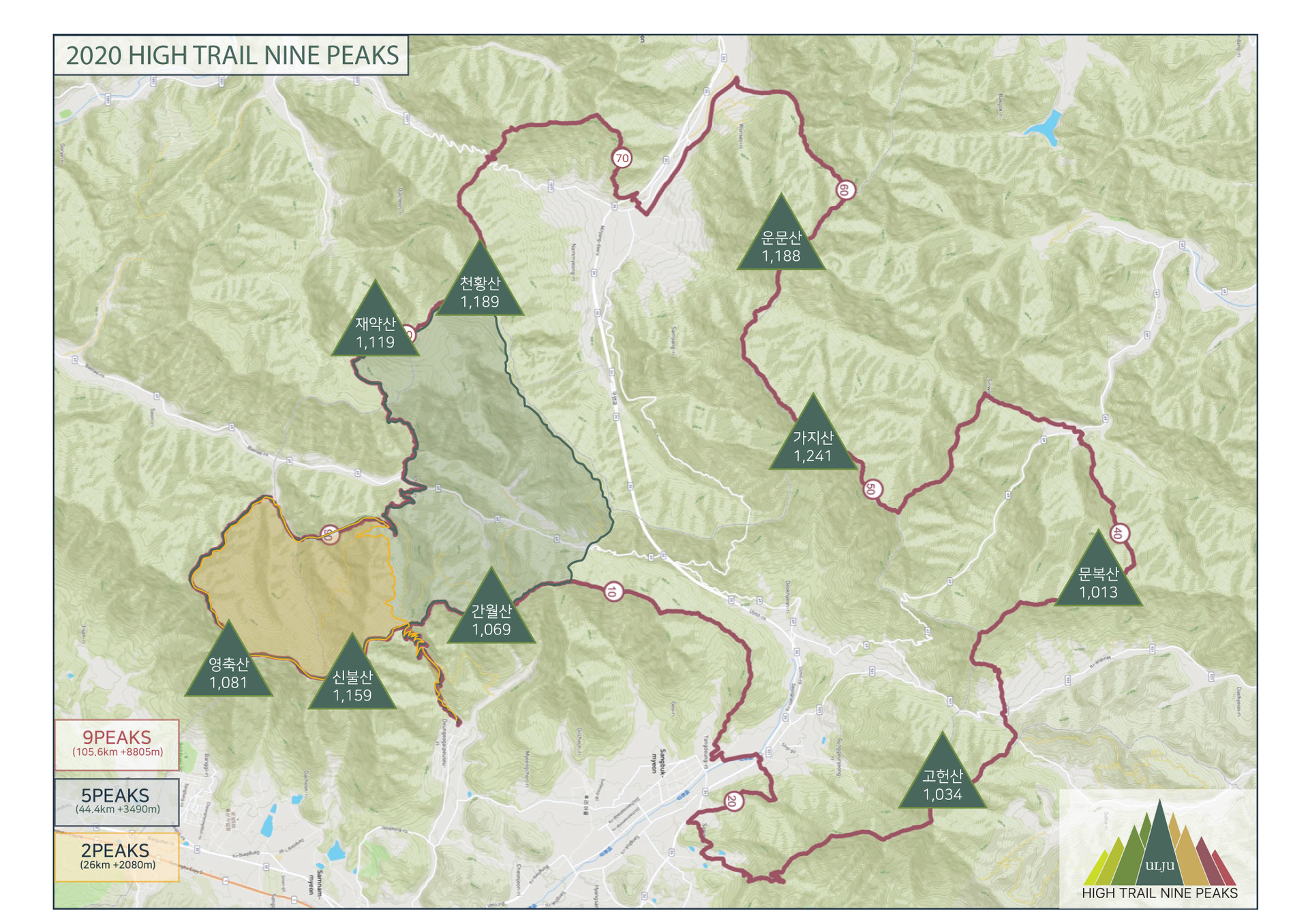 Participant Health and Insurance
All participants must ensure that they are in good health to finish the race they registered.
If you experience any physical abnormality during the race, please stop the race immediately and inform the medical team and the race organizer board.
Please be sure to take care of your health and personal insurance, as all participants are covered by event insurance but the organizers and insurer are not responsible for any accidents other than the organizers' negligence by the terms and conditions.
Please avoid excessive drinking or exercise before and after the competition as it may cause accidents and may lead to the investigation.
The organizers are not responsible for any injuries, accidents, and etc. caused by participants' health during the race.
Full refund until 20. 09. 2020

50% refund 21. 09. 2020 ~ 30. 09. 2020
The refund not possible after 30. 09. 2020

Full refund if the race gets cancelled due to COVID-19 (final decision on 30.09.2020)

Refund request can only be processed if you email us before 23:59:59 (KST) of the end date of each deadline. (info@jsceno.com)
The organizer collects personal information from the participants. (Required: name, DOB, contact details, email address, etc.

Personal information collected is used for insurance coverage, promotion, guidance(email/text messaging), and etc, and it may be shared with the sponsors for the better service. It will not be provided anywhere else - to a person or a company or an institution for commercial purposes.
The organizer may take photographs and videos of the participants, volunteers, and staff during the race and use them to promote the race and collect materials. It can also be uploaded to the organizer and race's official website and SNS, which can be shared with other participants and third parties.

Consent to the use of portrait rights is included when you register to the race.
Goods such as participation souvenirs and BIB will be distributed before the race by pickup and delivery. Please provide us the exact address.

If it is impossible to hold the race due to natural disasters or equivalent, the race will be cancelled and the registration fee will not be refunded.